Treating Pet Skin Conditions in Somerset County
At AnimERge, our board-certified dermatologist has years of experience and training to provide for diagnosis and treatment of skin conditions in cats and dogs.
Please Note: A referral from your primary care veterinarian may be required before making a dermatology appointment.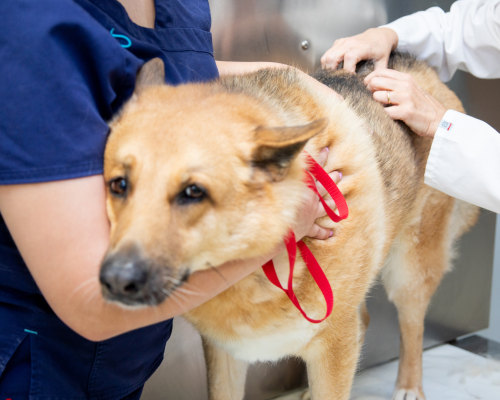 Our Dermatology Services
There are a variety of chronic and inflammatory skin conditions that can affect dogs and cats, but some are more common than others. These include allergies, bacterial infections, fungal infections, chronic scratching, skin parasites and hair loss. 
With years of training and experience in veterinary dermatology, our specialist can differentiate between the various conditions associated with pet skin conditions. This allows for the more accurate diagnosis and most effective treatment.
Our Board-Certified Dermatologist
A board-certified veterinary dermatologist has completed additional training after veterinary school in dermatology. Throughout this training, a dermatologist is also required to complete an internship and specialized residency, pass comprehensive exams, and complete publication requirements to become board-certified in Veterinary Dermatology by the American College of Veterinary Internal Medicine (ACVIM). 
What to Expect at Your Pet's Appointment
Prior to your appointment, please complete our Dermatology and Allergy Service Questionnaire. Your responses will help us better diagnose and treat your pet's condition. Additionally, please review our Dermatology Cancellation Policy.
Examination & Diagnosis
At the beginning of the appointment, our veterinary dermatologist will review your pet's history to aid in the diagnosis of their condition. Next, they will use the diagnostic tools at our in-house laboratory to determine the cause of your pet's skin condition.
Treatment Planning
Once the cause of your pet's skin condition has been determined, we will develop a plan to treat it. Treatment may include a prescription medication, shampoo/conditioner, an ear flush, allergy vaccines, or simple changes to your pet's environment.